Printable Version of Topic
OESF Portables Forum _ GPD Pocket - hardware _ GPD micro pc 6" laptop
Posted by: speculatrix Dec 12 2018, 11:33 AM
https://techtablets.com/2018/12/gpd-micropc-with-6-inch-display-coming-in-2019-for-just-299/

Posted by: Varti Dec 13 2018, 12:49 PM
Interesting device, nice to see that GPD keeps developing and releasing new UMPCs. I guess the major selling point of the MicroPC will be its price (299$!). I wonder how it compares with the Pocket 2, size wise it seems to be on par, although it is probably more thick.

Varti


Posted by: greguu Dec 13 2018, 02:21 PM
QUOTE(speculatrix @ Dec 13 2018, 08:33 AM)
https://techtablets.com/2018/12/gpd-micropc-with-6-inch-display-coming-in-2019-for-just-299/
This is actually quite interesting, mostly because of the RJ45 and serial port. The keyboard layout is a bit weird. I will keep an eye on this one.
Posted by: ArchiMark Dec 13 2018, 08:49 PM
Agree with other comments....

Like that it has all the ports in such a little device....

Keyboard and touchpad are a bit different....



Posted by: greguu Dec 16 2018, 10:58 AM
looks not that small...

Posted by: greguu Dec 16 2018, 11:07 PM
..not really sure what I am seeing here, but a Ubuntu work in progress / proof of concept perhaps ? That would be good!

Note: the rotated background icons, indicating the screen is (same as Zaurus, Gemini or GPD devices) a smartphone LCD meant to run in portrait mode as default. Possibly in this demo just using fbdev (without rotation) ?
https://imgur.com/a/bC3OV98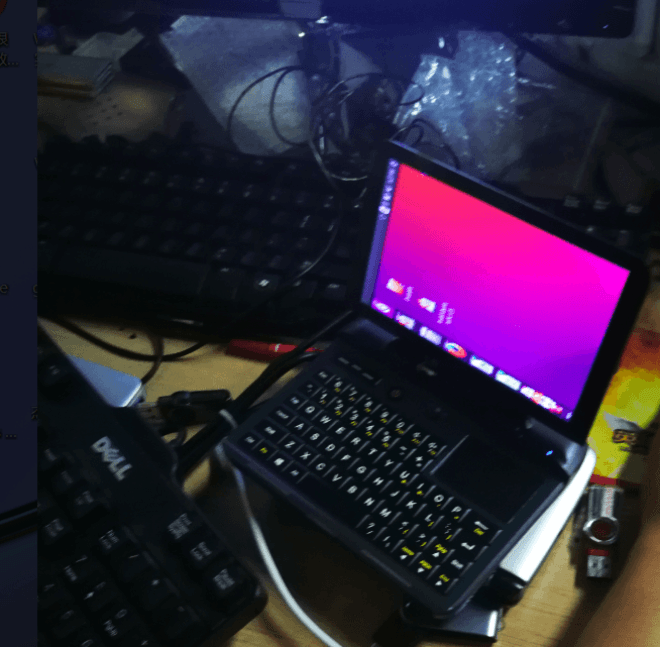 Source : https://mspoweruser.com/gpd-is-planning-a-micropc-for-it-professionals/
Still, this is quite promising...

Posted by: TheWalt Dec 19 2018, 04:05 PM
Better start saving now *sigh*


Posted by: greguu Dec 23 2018, 09:32 PM
I wonder how finalized the overall design and layout (keyboard) is. The indiegogo page is not up yet and it would be nice to provide some feedback for this particular model.

A youtube clip has surfaced : https://www.youtube.com/watch?v=_NF4Q9BcYhk (Trial operation on Micro PC touch pad)

The demo clip does not show it, but I suppose you could drive the touch pad with your right thumb and the mouse buttons on the left with your left thumb. Maybe not too bad operation while holding it.


Posted by: greguu Dec 23 2018, 09:54 PM


http://www.itmedia.co.jp/pcuser/articles/1812/13/news153.html

Posted by: speculatrix Dec 24 2018, 11:36 AM
A discussion by The Phawx
https://youtu.be/UL2N1eE7agQ

Supplies will be limited because Intel are struggling to keep up demand.
Right at the end The Phawx says that GPD will be launching a non-intel based device, presumably because of Intel supply shortages..whether that means AMD or Arm wasn't stated.

Posted by: speculatrix Jan 9 2019, 01:56 PM
https://youtu.be/WpMaky67tQw

A review of a pre-production unit by The Phawx

Posted by: TheWalt Feb 15 2019, 10:03 AM
Yes, I have no self control. Backed for one. https://www.indiegogo.com/projects/gpd-micropc-the-smallest-mini-pc#/


Posted by: speculatrix Feb 15 2019, 02:03 PM
I like that they fitted every port you could ever need. I guess a mix/combination of this with the gpd pocket would be great.
It's nice to see the UMPC category of devices has been revived.

Powered by Invision Power Board (http://www.invisionboard.com)
© Invision Power Services (http://www.invisionpower.com)